Truman Show News Clipping
the following clip was taken from Northwest Florida Daily News
Saturday, July 12, 1997
Lawmen arresting on film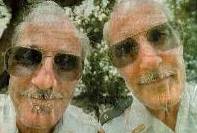 Twin Walton law enforcers Ron and Don Taylor, who winged their way through roles in "The Truman Show," will wing their way to Hollywood.
by John Keegan Daily News Staff Writer
---
Although the movie cameras have gone, Ron and Don Taylor's "fairy tale" movie stint isn't over yet.
The twin Walton County lawmen, who film director Peter Weir had written into "The Truman Show" because of their "natural talent," have been invited to fly to Hollywood, Calif. to retape some audio segments with comic actor Jim Carrey.
Ron Taylor, 50, said he and his brother were on "The Truman Show" set in Seaside this past winter as security guards - Ron is a lieutenant with the Walton County Sheriff's Department and Don holds the same rank in the DeFuniak Springs Police Department.
When Weir's artistic eye landed on the identical twins, they were asked to take on speaking roles in the $50 million movie, Ron Taylor said.
There we were, just two cops, and Peter Weir and Jim Carrey came over to talk to us," he said. "It's been like a fairy tale from start to finish."
Ron Taylor said he and his brother were shocked by Weir's and Carrey's praise of their improvised acting abilities.
"Carrey said, 'There are two kinds of actors, those who go to school for years and years and those who are born with it,'" Taylor said. "He said, 'Ron and Don, you guys were born with it... I guarantee you, this won't be your last acting job.'"
The movie completed filming in Seaside in March, and the Taylors haven't gotten more film offers, but they've been asked to go on an all-expense paid, three-day trip to Paramount Studios in Hollywood next week to re-record some conversations they had in the movie with Carrey.
"We're real excited," Taylor said. "We've never been to Hollywood. This will be the first time I've been on a jet since 1967.
"We're cops, it's bred in us, but I tell you, this acting is easy money, fun and it comes natural to us. I love what I'm doing but they really pay well."
Whether they worked one hour or several hours, each brother was paid a flat rate of $548 a day, he said.
"The Truman Show" stars Carrey as the main character of the longest running, most popular television series ever made. However, Carrey's character, Truman Burbank, isn't aware that he's being filmed since he was an infant and his life is the plot of the television show.
Tinted glass orbs hold cameras that follow Truman's every move. Brand names and billboards in the background are how the show airs its advertisements to the viewers.
At Weir's suggestion, the Taylor brothers kept their first names in the movie's script. The Ron and Don characters act as clandestine assistant directors in the tv show. They bump and jostle Truman to better position him for the hidden cameras and advertisements, Taylor said.
Ed Harris and Laura Linney co-star in the film.
"The Truman Show" is set to be released in September, said Okaloosa-Walton Film Commission liaison Dawn Rinehart.