Bay County youngster chosen for part in 'The Truman Show'
Sunday, December 15, 1996
Shirley Courson
Entertainment Editor
---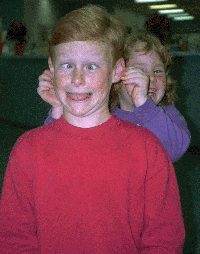 During his two days of work last week, Corey Jenkins ran on a beach, and dripped blood, and swung on a swing set, and got disgusted, and made more than $1,000.

He is 10 years old.

Through a casting call in Destin for a boy with red hair and freckles, Corey was chosen to play the part of a young Marlon, Jim Carrey's character's best friend, in Paramount Pictures The Truman Show. The movie is currently in production in Seaside and Panama City.

Corey came to The News Herald Friday afternoon to tell about his experiences, which he calls, ``Good!'' with a huge accompanying smile. He is enchanting to talk to - never shy - and just spills out exactly what he thinks. He is excited about being in a movie, but has definitely not let his fortunate opportunity go to his head.

"He's handling it better than I am," said his mother, Sharon.

"He's more down to earth about it than I am. I'm kind of excited."

After hearing the casting call, his mom decided to give Corey a shot at fame.

"We went in there and the lady asked us what we learned in school," Corey said describing the casting call. "Other kids said, 'I don't know,' and they looked to their mom for answers."

Corey said he was "calm" as he gave his response.

"Dividing and multiplying three digits," he said matter-of-factly.

It must have been the right response. He received a call back to meet with director Peter Weir and to read a few lines from the script. Jenkins said he was not at all nervous. He read the actual lines that he will say in the movie, which are two responses to a teacher's questions.

"What do you want to be when you grow up?"

"An entrepreneur like my dad," he responds.

"What does an entrepreneur do?"

"He makes a lot of money ma'am."

"And that's it," he said, shrugging his shoulders.

The director told him not to rehearse his lines, to just be himself.

Jenkins is a student at Hiland Park Elementary, where his friends are very excited for him. When asked what they think about it, he shrugged his shoulders, thought seriously for a moment, and finally exclaimed, "They think WHEEEEE! ... that's what they think. They think it's good. They ask me for half my money, for Jim Carrey's original autograph, and for my autograph, for my number...," his train of thought faded as he stared at the ceiling.

Last week, Jenkins and his character's best friend, the young Truman, played by Blair Slater of Canada, worked, or you could say played, for many hours. They swung, they ran, they wrestled, and just did things that young boys do.

"They asked me to take his sword and look like I was about to cut his head off," he said swishing his hand through the hair.

He also got to dress up like Count Dracula, complete with blood dripping down his lips, for a Halloween scene.

"It was disgusting," he said.

Jenkins is not too sure about all the clothes-changing that goes into movie-making, especially if you change and they don't even film you in those clothes. But all the free food makes up for it.

"They had granola bars, chips, fruits, nuts," he expressed with bulging eyes.

Jenkins is a big fan of Jim Carrey, and has seen all his movies with the exception of The Cable Guy. So meeting him was a big thrill, and sitting next to him in the makeup booth was kind of cool too.

"He's nice," he said. "He's like a normal person ... humorous."

Because he has a speaking part, Jenkins will make $540 a day. He is expecting a check for $1,080 in just a few days. He already has big plans for the loot.

"I'm going to have a nice Christmas,'' he said, with an involuntary smile. "I'm going to buy something for Brittany (his little sister), and Mom and Grandma and my Aunt. I'm buying them one of them whole-body massaging pads."
---
© 1996 The News Herald
---
RETURN TO PREVIOUS PAGE