DPS FAQ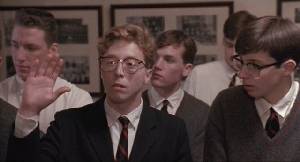 Looking for help in Latin? Then you'd better ask Meeks. Otherwise, maybe you'll find the answers you are seeking on this page...

---
How can I get a copy of DPS with the extra scenes?
At the moment there are only two places where you can track down Dead Poets Society with the additional footage. It is available on laser disc and it is also shown on certain television networks with the additional scenes. The main station I know which plays the film semi-regularly with the additional scenes is USA Network. The DVD version of the film does not contain the additional footage. [NOTE: For anyone thinking of buying the laser disc version, there are 2 versions out there. Make sure you read the description to be certain you have the version with extra footage.]
And no, I can't dub my own copy and send it out to you. But you can view clips of the extra scenes at The Lair of the Sweaty Toothed Madman.

Where can I get a copy of the soundtrack?
The soundtrack is no longer in print so you may have a hard time tracking it down unless you manage to find it in a dusty corner of a used CD store.Your best bet online is probably to check out one of the auction sites such as eBay which often has a few copies up for bidding.

Are there different versions of the soundtrack available?
There are at least two versions of the soundtrack and perhaps three. The most common version contains 4 tracks from Dead Poets Society, 1 track from The Mosquito Coast, 2 tracks from Witness, and a medley of music from The Year of Living Dangerously. Another version contains the 4 DPS tracks plus Beethoven's 9th Symphony and the medley of music from The Year of Living Dangerously. There may also be a third version that is devoted solely to DPS. If anyone has proof of this, please .

Where can I find a copy of "Five Centuries of Verse"?
Perhaps the more appropriate question is whether "Five Centuries of Verse" actually exists at all. I have heard conflicting stories here. I have searched high and low for the book and there has been no mention of it on the internet or in any library databases. However, I have now had two different people tell me that the book does indeed exist. If anyone else knows of the existence of this book (and has any information such as the editor, ISBN, etc.) it would be much appreciated.

Was Dead Poets Society based on a novel?
No. It was based on an original screenplay by Tom Schulman. (He won the Best Original Screenplay Oscar for Dead Poets Society.) There is a novelization of the film available which was based on an earlier draft of the script. The novelization is written by N. H. Kleinbaum and is actually part of the English curriculum in a number of schools. (This frightens me as I thought the writing for the novelization was rather horrendous.)

I have an assigment due tomorrow on Dead Poets Society. Can you do it for me?
No. However, if it's still a few days before the assignment is due, you've given some question a lot of thought and now need a little advice I'll certainly try and help. Far too often I receive emails that simply list all the questions of an assignment and some lazy student who hasn't even seen the movie wants me to do their homework. Unless they catch me in a very generous mood, those emails just get move to my DPS Fools folder. (Perhaps I'll post them on the web site eventually as a joke. The funniest part of many of them is reading the ridiculous questions some of the teachers actually assign!)
Was Robin William's character, John Keating, based on a real life teacher?
Yes. Samuel F. Pickering Jr., an English professor of the University of Connecticut. DPS writer, Tom Schulman, was a former writing student of Pickering's and he drew on many of Pickering's unusual teaching techniques to create the Keating character.
Who's the lady in the centerfold Charlie brings to the cave?
Elaine Reynolds, Playboy's Playmate of the Month for October 1959.
Lara Flynn Boyle is listed in the credits but I can't find her. Where is she?
Lara Flynn Boyle (perhaps best known for her role in "Twin Peaks") played Ginny Danburry, sister of Chet Danburry. Her role was mostly cut out, though she does have a few lines in the extended version of the film. (She talks with Knox and Chris at the Danburry house when Knox visits). According to the earlier draft of the script she also plays Hermia in the play so she may be glimpsed in a few scenes of the regular version. Could she be the girl who kisses Neil after the curtains close? If anyone with a better eye for faces can confirm this, please . Visit the Scans From the Extra Scenes page to see a few fuzzy screen captures of her from the extra scenes.
I don't get Keating's joke about people kicking copies of Byron in his face. What was he referring to?
There used to be a cartoon ad for Charles Atlas Bodybuilding that would run in magazines and comic books called "The Insult That Made a Man Out Of Mac". It featured Mac, a 97 pound weakling, who is at the beach with his girlfriend when a bully kicks sand in their faces. Too weak to face the bully, he goes home and orders the bodybuilding book and returns to the beach later and beats up the bully.
I have another question and it's not answered here.
Feel free to with any questions or suggestions you might have.
---